We have found the most gorgeous angel costume ideas to suit, girls, boys, toddlers and even mom and dad for your next themed party or Christmas school plays and pageants! All can be purchased online and delivered to your door!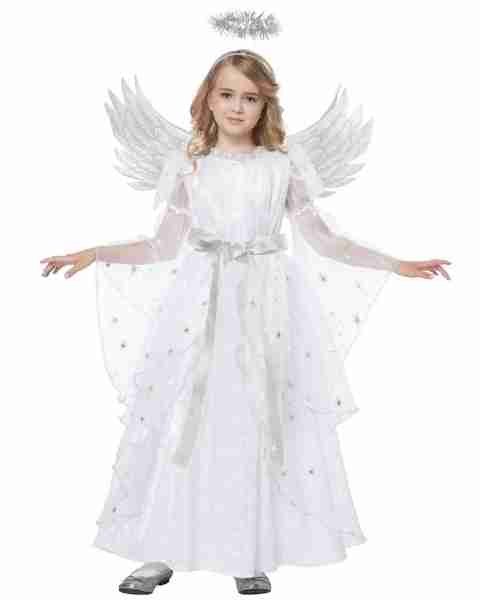 Christmas Angel Costume For Girls
This Girls Starlight Angel Costume comes styled as an angelic dress, complete with wings and a halo accessory. Sheer fabrics with a little bit of silver sparkle give it that "starlight" touch.
Whether for a costume, a play, or a performance, get her this costume, and she's bound to be eminently heavenly!
• Velvet pull overdress has empire elastic waistband and silver metallic foil print bell sleeves
• Wrap around overskirt has hook & loop closure at back, bow secures to the front with hook & loop fastener
• Silver tinsel halo is attached to a plastic headband
• White wings are edged with wire for shape; elastic shoulder straps
Girls Guardian Angel Outfit
Do you have a little angel watching out for you or is it your beautiful daughter helping out while wearing this majestic Guardian Angel Costume!?
The shimmering white velvet and gold ribbon trim and belt give this dress a divine shine, while the included foam-backed wire-framed wings and feathery halo complete the angelic ensemble.
It's a positively blessed style for your angel to wear to a holiday party, pageant, or while keeping an eye on you!
• Dress has open skirt front where satin underskirt with mesh overlay shows through
• Tie gold satin ribbon waist sash as desired
• Wings have printed gold feathers
• White feather and gold tinsel halo is attached to a plastic headband
Girls Angelic Maiden Costume
She's a treasure. She's a treat. She's straight from heaven! At least she will be when she goes in this girl's Angelic angel costume for children.
This Child Angelic Maiden Costume is perfect for Christmas, plays, and more! With classic angel styling, she'll look heaven-sent, even if she's just an ordinary day-to-day girl.
An all polyester gown has draped lace sleeves and features a lace scoop cowl for angelic elegance, the golden sash secures around her waist to give the ensemble an exquisite touch.
Wireframe wings secure to the back with elastic straps, and will have her looking like she just flew in for a harp jam session!
Complete her look with the included metallic headband and pick up a pair of golden sandals (sold separately) to complete the look
Your family is new in town.
It's time to make a great first impression! Of course, you know your child is the kindest, sweetest, most lovable kid on the block, but this Kids' Holy Angel outfit will help everyone around you know it, as well!
This beautiful angel costume goes above and beyond all the other boy angel costumes out there!
We've paid careful attention to craftsmanship and detailing to create a look worthy of your little do-gooder.
It's comprised of a pullover robe with flared sleeves and a shimmering golden sash that drapes across the body.
The feathered wings slip over your child's shoulders for easy wear, and the golden halo looks all too at home atop your kiddo's head.
Starburst Angel Costume for Kids
Let your little girl Celebrate Christmas with this stunning kids Starbust Angel Costume!
The dress is made from soft white velour and is covered in an ethereal, starry organza overlay, and the bow secures to the matching belt.
Foam wings and tinsel halo complete the costume and leave your child looking like the angel they are at heart.
• Belt skirt has matching organza with printed graphics, hook and loop fastener on the back of the belt
• Bow can be secured to the belt with hook and loop fastener
• Plastic headband has attached gold tinsel halo
• Foam wings have elastic bands to secure around your shoulders
Unisex Holiday Angel Kids Costume
Bring a little heavenly presence to your next school Christmas plays in these Unisex Holiday Angel Costumes.
As most schools tend to like all their angel costumes the same in school plays or Christmas concerts this one is the ideal design as it suits both boys and girls!
The long-sleeved pullover white robe is 100 percent polyester and features a sheer overlay that's trimmed in glittery gold. The robe ties around your waist.
The costume comes with a headband that has a white fluffy halo attached to it, along with beautiful white wings with gold accents. The wings have elastic bands to secure around the arms.
Shimmering Angel Girl's Costume
No matter how your child usually behaves, we hope she'll feel inspired to be good in this Shimmering Angel Costume.
The white dress has shiny silver straps and a silver belt. The belt and the collar of the dress also feature beautiful iridescent faux gems.
The white dress has a tulle overlay with glittery dots that give the whole outfit some extra sparkle. Of course, an angel can't fly down from heaven without its wings!
The white feathered wings also have some extra shine in the form of round faux gems along the edges.
The finishing detail is a fluffy halo connected to a headband that will look like it's floating above your child's head.
Girls Darling Angel Costume
This exclusive girl Darling Angel Costume that is just so sweet and soft-looking.
Loving the silver accents over the dress, sleeves and belt addition of silver hanging stars. Also comes in Toddler Sizes!
• 100% polyester jersey knit & knit mesh
• Dress has hook & loop fastener at back of the neck
• Jersey knit base layer, knit mesh overlay & sleeves
• Overlay & sleeves sprinkled with silver & iridescent stars & sequins
• Metallic silver ribbon belt has a foam star at each end; tie as desired
• Wings are knit mesh stretched over wireframes, have elastic shoulder straps
• Tinsel halo is attached to plastic headband
If you are looking for a pretty victorian angel costume this one ticks all the boxes. Simply stunning!
Another exclusive Angel Costume design features a holy combination in a dress, wings, and halo with lots of intricate patterning in the lace.
The cream-colored dress has full-length lace sleeves and ruffled tiers down the skirt, all accented by golden trim. The halo features a golden loop with cream flowers along the headband.
The wings are worn on the back and split into two velvet semicircles with printing to highlight the feathers
Sweet Little Angel Costume For Toddlers
Dressing up your toddler in an angel costume this season would bring plenty of oos and arrss from the family!
Plus this super Sweet Little Angel Toddler Costume makes going through tantrums seem so worthwhile (or should that be bearable)….don't they mom?
• 100% polyester costume
• One-piece dress
• White velour overdress with mesh sleeves and overskirt
• Gold and silver detailed trim
• Elastic in the waist and attached ribbon
• Halo attaches to plastic headband
• Wire framed wings attach over the shoulder with elastic band
Toddler Starlight Angel Costume
This Toddler Starlight Angel Costume seems to have been sent straight from the heavens. It's an all-white look that's as simple as it is stunning.
It's a white velvet dress with fluttery silver metallic foil print bell sleeves, a mesh overlay, a silver waist sash, and a sparkly star pattern.
Detailed wings help your child soar above us mere mortals and take her place among the angels, and the silver halo will complete her transformation.
There will be no doubt your little one will be the most ideal angel ever seen before in this Christmas costume!
Guardian Angel Costume for Women
This Guardian Angel Costume features a long, white dress in a mock-wrap style. The white fabric is soft crushed velvet that drapes over the soft gold base layer.
Gold and white braid trim the top and the sheer, draped sleeves. A golden bow cinches in the waist and brings the gold and white ensemble together.
Of course, you can't become a guardian angel without those all-important wings! They attach to your back with subtle elastic straps that slip around your shoulders.
Topped off with a feathered halo headband, this costume is ready to shine at all sorts of Christmas costumed events!
Heavenly Angel Costume for Men
Even men can dress up in angel costumes to celebrate the season or perhaps become an angel in their theater play! This is really about the best Men's Angel Costume we could find.
The featured robe is cinched at the waist with a gold rope belt. A lightweight semi-sheer scarf is layered over the top of your shoulders for any extra-biblical touch.
The wings are printed with golden feathers, strapping onto your shoulders with elastic bands.
A golden halo tops off this whole look to make sure your heavenly presence is recognized as soon as you enter the room or appear on stage!
You can also pick up the harp at checkout to complete the costume.
Plus Size Women's Christmas Angel Costumes
This Adult Guardian Angel costume is so pretty.
The sleeveless, crushed velvet and knit mesh fabric dress has the look of a wrap and shimmers with the almost glittery appeal, edged with gold braid all along the neck and hemline.
A cloak drape of white knit mesh glides down to give you an ephemeral glow.
Though it is your gold feather printed wings and a halo of gossamer feathers that clearly designates you as the angelic guardian of your family and friends!
• Sleeveless crushed velvet mock-wrap dress has V-neck & elastic empire waist
• Neckline, hemline & front overlap panel edged with metallic gold braid
• Attached gold satin ribbon waist tie
• Each drape is a swath of white knit mesh anchored to a polyfoam disk trimmed with feathers & tinsel
• Wings have printed gold feathers, wire edges, elastic shoulder straps
• Also available in standard size