Nativity scenes are a classic way to celebrate the holidays. If you're looking at nativity costumes then you probably have some ideas for putting one together, yourself!
While the traditional nativity group includes Mary, Jesus, and Joseph along with shepherds and wise men, there are many other characters you can add. One of the reasons that it's such a hit with schools and churches.
nativity set costumes – Adult Saint Joseph Costume
How about that Joseph, right? What a guy. What a husband! He and Mary have to travel all the way to Bethlehem!
Now with this Saint Joseph costume, maybe you can help portray your husband as Joseph this Christmas in your local Christmas play or maybe your family are getting dressed up in nativity costumes to match your themed Christmas house!
• Tan robe has ties by the collar
• Brown overcoat is attached to robe & ties around the waist in front
• Included headpiece is stretchy and ties around the head
Adult Virgin Mary Costume
If you plan on playing Mary in a play this year, then you're going to want the iconic look.
We're pretty sure that Mary wasn't sporting a pair of jeans and a t-shirt, so perhaps it's time to consider something like this Adult Virgin Mary Costume!
• Dress and headpiece are printed to look like woven fabric
• Headpiece has sewn in elastic for a secure fit
• Belt can be tied around the waist
• Dress features an attached cape with hook & loop closure at back of neck
Shepherd Nativity Costumes for Boys
Perhaps no occupation is more important in the Bible than that of the shepherd. So many of its central figures made their living at some point by making sure sheep didn't get lost. Abraham, who passed the most important test ever given, was a shepherd!
If your child needs to play a prophet in a school or church play, or they just want to look like they had business taking care of sheep a few thousand years ago, then this Shepherd Costume is their best option.
With these two robes and belt, they would have fit right in ancient Damascus. All they'll need is a shepherd's crook, which we have a selection of, and a beard if they're really going for authenticity. Maybe better you shouldn't wait for them to grow their own!
Balthasar Wise Man Costume for Men
So maybe you're ready to head out with two friends to celebrate Epiphany in a parade or Nativity scene as a Wiseman?
Then you will need this Wise Man Costume for Men! This is a lush and colorful blue robe with gold-trimmed sleeves and a gold v-neck.
The shoulders are dramatic and structured with gold trim falling along with the red panel down the front. You'll make a grand entrance into any manger when you show up with this red cape.
The whole ensemble is topped off with a turquoise headdress that drapes heavily around the neck and a gold braid wrapped around your upper head.
Gaspar Wise Man Costume for Men
It's a tale as old as they come. A star in the sky leads 3 wise men to a quaint animal stable in Bethlehem.
Gaspar was the Wiseman who brought with him frankincense (this costume has him depicted with some gold). Although he was never mentioned in the Bible by name, tradition believes that he became a martyr and a saint.
This adult Gaspar Wise Man Costume will help you play the role of the famous character from the nativity story. The costume with a bright orange robe made of polyester.
It also comes with a cape that ties around the beck and a bright orange turban. The turban has a foam lining to help keep its shape. When you have it all on, you'll feel like one of the 3 wise men headed to see baby Jesus.
Melchior Wise Man Costume for Men
This well-known Wiseman was a king who saw the Star of Bethlehem shining high in the sky and then decided to hoof it there, just so he could give baby Jesus some gold for his birthday.
Now, you can help retell the story of Bethlehem and carry on the name of the famous magus from the tale! Just dress up in this men's Melchior Wise Man costume and you can be an important part of the next Christmas pageant.
The costume comes in a cream-colored robe with a red cape. Finally, it comes with a gold-colored crown to give you the look of a true biblical Wiseman.
Pair this up with our Gaspar and Balthasar to bring together the 3 kings who traveled far and wide to bring gifts! It's a crucial part of the Christmas story, so you'll want to have all of them there for the play.
Joseph Costume for Men
This Joseph Costume For Men looks like it's straight out of a bible story.
It features a floor-length robe with subtle stripes layered over a long-sleeve tunic with a brown sash. Top this off with a long beard and a shepherd's crook.
Lightweight and flowing, this will be a costume that can be used over and over again. Just don't forget to invite the rest of the holy family on any outings!
christmas nativity play costumes deluxe Mary Costume
Well, if you're ready to share the humble, yet miraculous beginnings of Jesus, then this Women's Nativity Mary Costume is the perfect outfit. It's designed to give you the classic look for Christmas pageants and nativity scenes.
The costume starts with a white dress that fits with a zipper in the back. It also has an elastic waistband to help provide a comfortable fit. The shawl is sky blue and drapes around your shoulders to give you that classic Mary nativity look.
The veil is shaped to sit on your head and can be held in place by putting the headband on over it. The belt is made of gold metallic faux leather and it closes with a hook & loop fastener in the back.
Finally, the halo is attached to a simple headband that fits on your head to complete the look!
Balthasar Wise Man Costume for Boys
Your child will feel like a mysterious traveling king when wearing this Balthasar Wise Man costume!
The colors are deep and dramatic. The blue has a soft sheen and is trimmed in gold around the sleeves and gold lame around the middle panel.
The red middle panel flares out into structured shoulders that give your nativity scene the drama it deserves, especially with the red cape! The whole ensemble is topped with a shiny blue headdress that drapes in the front and is wrapped in gold cord at the top.
Find a bottle such as the one pictured here to represent Myrrh when you want to make the look complete.
Gaspar Wise Man Costume for Boys
While we can't imagine riding a camel in this Wise Man Costume For Boys, we can imagine it looking awesome in a stable.
The robe is a fresh orange color and has an interior trim that matches the gold cloak around his shoulders. The gold cape ties with a satin cord at the neck so you'll know it will stay in place while your child stays in character.
The whole thing is topped off with an orange cap with ruching on the front and draping fabric down the back.
All your child needs to complete this outfit is a pair of brown sandals, a box of treasure and a beard!
Melchior Wise Man Costume for Boys
This Melchior Wise Man Costume For Boys is perfect for church plays and Nativity celebrations!
The cape is rich with tassels and a deep red color that is sure to make your kiddo feel like one of the three kings. The robe secures with a hook and loop touch-strip fastener at the neck so there is no need to fool around with buttons.
Topped off with a fabric-covered foam crown and your child will be ready to spread his astrological wisdom.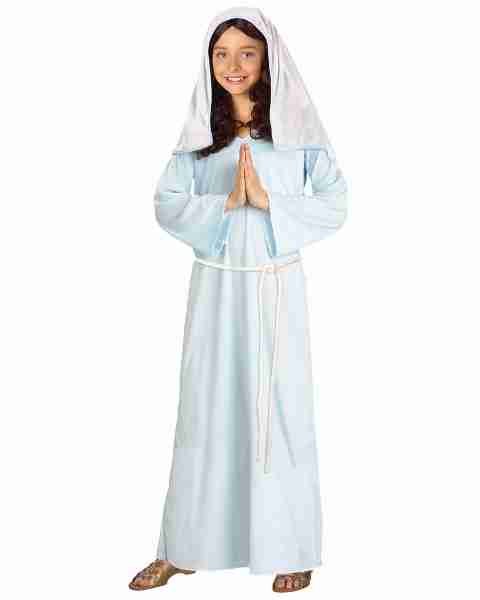 Now your little girl can look like she just stepped out of a nativity scene! This Child Mary Costume is ideal for any Christmas play and would make an adorable costume for a Christmas card picture.
Become the symbolic religious figure in this cute costume for girls. Your child is now ready to lead her people and command a crowd in this realistic Mary costume. A great choice for any little one who's got a Christmas pageant or play coming up.
The lightweight costume starts with a long-sleeved light blue dress that is modest and minimalist. A white braided rope belt ties around the waist for added authentic detail.
A light blue headpiece is also included and it secures with an elastic band for a secure and comfortable fit.