What better way to celebrate Mexican culture than with great drinks, food, and costumes! Browse our favorite selection of Cinco de Mayo costumes for adults below.
Men's Three Amigos Costume
This exclusive look features an exquisitely embroidered, screen-printed hat, jacket, and pant combo along with a ruffled white shirt and matching red tie and cummerbund.
Be the Western hero that could only exist in a comedy film with all the bright accents and a ridiculously wide-brimmed hat.
Shirt has buttons at center front & sleeve cuffs edged w/ ruffles
Cropped jacket has printed graphics on front and sleeves
Pants have elastic back waistband, false fly in front
Pants have printed graphics along side seams and around cuffs
Tie has ribbon neck band w/ hook & loop fastener at back
Cummerbund has ribbon waist ties
Sombrero hat has appliqued graphics
Officially licensed
Adult Men's Mariachi Costume
This amazingly detailed and highly exclusive Cinco de Mayo
costumes is directly inspired by the traditional traje de charro of real mariachi bands in Mexico.
It features slim-fitting black pants and a matching cropped jacket, both boasting an intricate tone-on-tone printed pattern that lends a subtle sheen.
The focal point of the whole ensemble (aside from your fancy strumming skills, of course) is the pop of vibrant red roses embroidered atop the pant ankles, jacket, and sombrero brim.
With the red tie and red waist sash, you're completely ready to book your group its first gig!
Womens Flirty Mariachi Costume
You'll love this high-quality costume with its cropped jacket and high-waisted shorts. Plus its something a little sexy from the Cinco de Mayo costumes.
Both pants and jacket have flower details and pom poms trimming the hems. The shorts and jacket are accented with bright Polish off the whole look with a red tie and a gorgeous sombrero.
The jacket has ball fringe hem edging, embroidered roses on sleeve cuffs
Red satin necktie can be tied as desired
Shorts have elastic back waistband with ball fringe hem edging, embroidered roses
Molded felt sombrero has embroidered roses on brim
Exclusive costume
Women's Pinata Costume Dress
As you flaunt the layers of this festive Cinco de Mayo costumes frock and its matching boot toppers, you'll immediately draw a crowd wherever you hang.
A ribboned, horn headband and a matching ribbon "tail" complete this costume and crown you sweet princess of the pinatas!
Something tells us that the paper and cardboard kind will never seem quite as fun after you've lived the lovely life of a party pinata!
Royal blue sleeveless scoop-necked tank dress of interlock knit\
Dress covered w/ multiple tiers of fringed nonwoven webbing in different colors
Headband has 2 stuffed horns covered w/ fringe & w/ dangling ribbons
Interlock boot tops have multicolored fringe & elastic band under shoe
Mighty Matador Men's Costume
Are you ready to get out there with your matador self? This should be good. Just be sure to practice your stoic look so that your bullfighting pictures look "muy guapo" as the folks in Valencia might say.
You're sure to love the cropped jacket with gold trim around the hem, shoulder pads, and along the outer side of the pants. The whole look is topped off with a red cape, the traditional hat, and a skinny tie.
Cropped jacket has gold braid trim, foam epaulets
Cape sewn to left shoulder of jacket
Knee pants have elastic back waistband, false fly w/ decorative button
Gold braid trim down pants side seams
Molded felt hat has gold braid edging – Tie necktie as desired
Semi-sheer white knee-high socks
Exclusive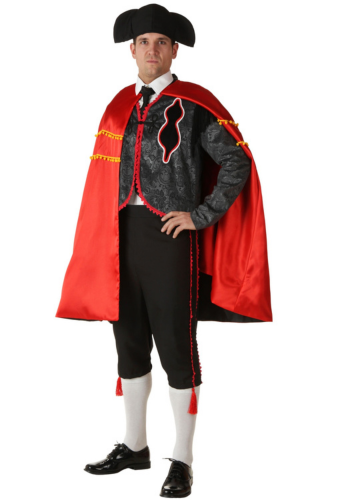 Matador Cinco de Mayo costumes
Dress in this costume when you're getting ready to confront any metaphorical bulls/ everyday issues (especially if it's just something rather mundane, like having to write a report or pay a phone bill).
Facing your commute during rush hour while wearing this look will be much more interesting for everyone who might glance in your car!
Pants have red braid down each side, tassel at side of cuff
Gray brocade bolero jacket has red braid edging, black frog closure
Satin cape is red w/ black lining & neckband, 2 rows of gold ball fringe; fastens w/ Hook and Loop fastener
Black pre-tied necktie has elastic neck band
Black foam Montera-style hat
Exclusive
Adult Inflatable Pinata Costume
This adorable Pinata Cinco de Mayo costumes is the life of the party!
The four-legged look is supported by a battery-run fan so that you can be sure your paper mache horse shape will stay hot to trot throughout all sorts of events.
The costume is covered in layered colorful fabric made to look like tissue paper so it's sure to stand out in any crowd!
Circumferential zipper closure at the back of the waist
Elastic cuffs at the face opening, arm holes, and ankles
Fan is mounted at the back, above the right hip
Inner pocket to hold the battery pack
Fan requires 4 AA batteries (Not Included)
Women's Spanish Dancer Costume
Add a little Spanish to your Cinco de Mayo costumes choices!
This red and black poka dot dress with black ruffles is ready for a challenge. Ready for the flamenco, the Spanish gypsy dance that is internationally famous.
Precision, control, the ability to pull people's attention like a moth to a flame. That is flamenco, and that is the fire which burns in you.
When someone asks if you want to dance you say no. You don't want to dance. You need to dance. Like a person needs to breathe, your feet need to tap across a dance floor.
The Spanish passion flows in you and out through your feet.
If you're also a true taco believer or just want something different from the Cinco de Mayo costumes range, then you need to get the word out.
You need to proclaim the deliciousness of the Mexican delight with this Taco Costume.
It perfectly captures the classic food in an easy-to-wear outfit that you can put on for costume parties, Cinco de Mayo, or Halloween!
This Taco Costume is simple, just like the food. It's made out of a polyester material and is basic tunic-style top that you can wear over your clothing.
It's shaped like a taco, complete with a tortilla on the outside and fake fillings on the side, including fake lettuce and red sauce. Just toss it on overhead, and you're all ready to go!
Authentic Western Senorita Costume
Do you wish to be a señorita? Well, then this authentic Western Señorita costume should have you all set and a stunning choice for women from the Cinco de Mayo costumes range!
It comes with a vibrant dress and a fiery red sash to wear as you win the Wild West in your own way.
Pullover dress styled as peasant blouse w/ tiered & ruffled skirt
Black satin skirt has stripes of lace & red, white and green satin ribbon
Red satin waist sash has fringed ends
White interlock blouse portion has elastic at waist, neckline & sleeve cuffs
Neckline edged w/ lace & fabric ruffle; printed floral design on ruffle
Latin Cinco de Mayo costumes
This dress captures that classic flamenco-dancing spirit and festive South American vibe perfectly. That's why you'll be the life of the party In this beautiful Latin Dancer Costume!
Covered in brightly colored frills and fluffy tulle fabric, this outfit was made for spinning on the dance floor, with or without a partner.
The dress includes a bouncy, shapely skirt with an alluring side slit tastefully exposing the leg and a top that lets you show off your midriff as well. And the proverbial cherry on top is the hat.
It's decked out with a nice little collection of tropical fruits. As if that weren't enough, a sprinkling of glitter across the hat will help it — and you — truly shine in any light! A very colourful Cinco de Mayo costumes. 
Men's Spanish Matador Costume
The Matador donned gold accents to his outfit to symbolize that he was the bullfight's top brass (or top gold).
If you are looking for Spanish Costumes and want to stand out from the crowd, dip into Latin culture and check out this Men's Spanish Matador Costume.
Like the gold accents of old, this men's costume features gold braid trim down the side seams, and the classic V-neck vest with decorative gold frog closures.
The cropped jacket features multiple rows of gold braid on the body and sleeves. Combine those with the black felt hat and caped lined with red satin, and you have an international and timeless look.
Step into the shoes of a bullfighter today with a Men's Spanish Matador Costume.
Plus Size Men's Mariachi Costume
Whether you're at a wedding, a quinceañera, or a backyard party, a mariachi band is guaranteed to make the occasion unforgettable…
and this Plus Size Men's Mariachi Costume among the many Cinco de Mayo costumes quickly turns you into a member of the band!
With its realistic and authentic details, we know this costume will make everyone believe you're really a mariachi.
This men's outfit doesn't skimp on believability, and it certainly comes with everything you'll need to pull it off.
That includes the pants, jacket/vest combo, and sombrero, all of which have a decorative metallic silver trim.