Are you ready to serve up some thrills and chills to your trick-or-treaters? You can keep it simple or go over the top with animated Halloween decorations!
There are animatronics as simple as a creepy dropping spider & an eerie-eyed doorbell. Or there are these jaw-dropping characters such as Regan from The Exorcist! So plug in and check out some of our favorites below. There are plenty more to choose from at Halloween Costumes Online Store.
Animated Halloween Decorations – Swinging Chuckles Evil Clown Prop
Inviting Chuckles the clown into your home is a sure way to delight and frighten anyone who passes by!
Be sure and secure the ropes of the swing nice and tight to ensure a healthy swing. Plug the swing in and choose from motion sensing, steady-on, and step-pad (or off) options for activation.
This clown has a range of phrases with volume control that he uses to frighten passersby.
With easy set-up and unhinged cheer, this eerie clown is sure to frighten friends and neighbors for years to come!
Can be used indoors or in a covered outdoor location (can't be allowed to get wet)
17″ Brewing Witch with Black Cauldron
What's that old witch brewing in her cauldron? It could be something perfectly harmless, like a love potion or a spell to get rid of warts!
"Double, double, toil and trouble" – that's what this exclusive 17″ Brewing Witch with Black Cauldron might say if she could talk! You will only find her at Halloween Costumes Online.
The realistic-looking witch wears a black robe and a pointed hat, and uses a molded plastic stick to stir a green-slimed cauldron.
The witch moves from side to side as stirring her pot and looks awesome! Imagine having a fog machine nearby!
Runs on 3x AAA batteries (not included).
Beetlejuice Inflatable Animated Sand Worm
For lovers of Beetlejuice this one is for you! Big and bright colored will make a stand-out feature amongst your animated Halloween decorations!
Unlike the usual sand worm, this officially licensed 10 Foot Beetlejuice Inflatable Animated Sand Worm won't attack anyone for leaving your house!
When fully inflated, the decoration resembles a coiled black and white sandworm with a double row of faux fangs and a long tongue.
Shaking Pumpkin Candy Bowl Animated Halloween Deocorations
This is pretty cool! Dare the kids to grab their candy from this light-up pumpkin scarecrow candy bowl!
It has a hideous laugh as it shakes and vibrates up and down. The eyes light up and looks freaky.
Trick or treat will never be the same again! A great addition to have inside or under cover at your front door.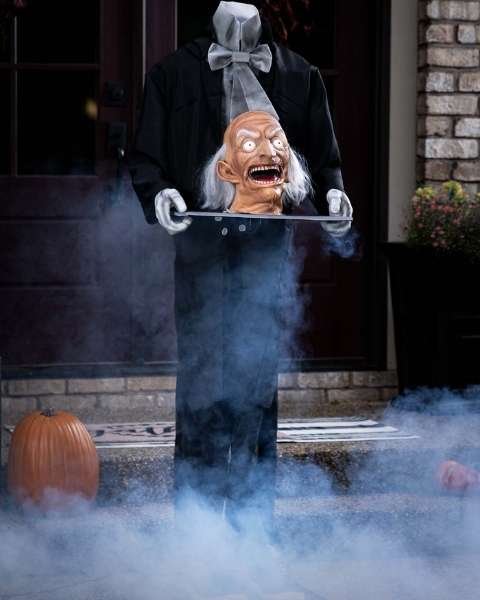 headless animated talking butler
When you add this exclusive Head on a Platter Butler Decoration, to the entry of your house, you'll have just the help you need to make your space feel more haunted.
This fun decoration comes with everything you need to get set up. A black suit covers the metal frame, which supports the body and molded vinyl head.
You get to choose whether this frightening figure will respond to sound or pressure on the included step pad. When activated, the eyes light up, the mouth moves, and you'll hear some truly eerie sounds!
You'll love displaying this spooky piece year after year.
Creepy Animated Black Cat
Pitch the inclusion of black cats to your family one more time with this Animated Creepy Cat Decoration.
This docile feline is the perfect segue from no black cats to hosting an entire litter thanks to its watchdog-style appearance and easy-to-care for presence.
Simply add the plastic pet to your front step, window sill, or any Halloween display and watch it come to life when fed a couple of batteries.
The rotating head and glowing green eyes are sure to keep unwanted guests at bay while showing your family just how great the long-feared creature truly can be!
Dancing Corpse Flower Plant Decoration
A corpse flower exhibit is coming to the neighborhood!
Most people go their whole lives without catching a glimpse of these incredible plants…and you know what, that's ok, because it turns out that they're bloodthirsty.
Guests will be nervous about getting too close to this Dancing Corpse Flower Potted Plant Decoration!
The faux plant has two "flowers" lined with soft green fangs. The insides are fitted with red lights, and each one is mounted on a sturdy stem. A faux skull rests inside the pot – one of the last victims?
3.5FT Light Up Talking Doll on Animated Rocking Horse
Are you the type of person that finds cursed Halloween decorations to be the best thing out there—this Animated Rocking Horse with Light-Up Talking Doll may be fated to arrive at your home!
Where do we even start with this How about the detailed look of the undead hobby horse? Maybe the layered tulle fabric that makes the doll look ancient?
The glowing red lights that make her eyes gleam in the dead of night? The zombie-bite details all along this demonic doll's frame?
How about the horrific things she may say that are sure to stir your heart and make your spine shiver!?
5FT Jack Goodies Guardian Animatronic
Offer candy to the worthiest trick-or-treaters when you recruit this 5 Foot Jack Goodies Guardian Animatronic to do your bidding.
This animated jack-o-lantern scarecrow is the protector all candy lovers need.
Seemingly stoic and measuring only 5 feet tall, Jack rests on their haybale bench, shovel in their lap, and a jagged grin on their face, just waiting to share the bucket of candy between their feet.
But as trick-or-treaters reach in to collect their prize, only the brave will make it away with a handful of sugar. Jack raises their shovel, and that grin instantly seems less friendly.
Animated Halloween Decorations Red Doorbell
Don't be fooled by the fact that this doorbell prop requires batteries. Once the batteries are in there, they activate the black magic our witches brewed up in the back.
The eyeball stays closed when it's not in use, but as soon as the button is pressed and the tone rings, it opens up and greets the guest with a spooky introduction to your home.
It's perfect for those people who live in the last, creepy house on the street, or if you just want to have a fun prop for your Halloween party.
This doorbell comes in red as pictured but also white.
14″ Creepy Animated Pumpkin Halloween Candelabra
This Creepy Pumpkin Halloween Candelabra, for instance, sends just the right message. It says, "I'm serious about my Halloween decor" without sacrificing functionality.
Did we mention it's pretty creepy, in and of itself? Set a few of them around your haunted house and shed some light on the delicate art of Halloween illumination.
This candelabra base features an intricate skeleton-meets-tree branch design, with a skull-like base.
Three Jack o' lantern heads top the trio of arms, each supporting a "melting candle" inspired LED light. The full effect is irksome, ancient, and perfect for Halloween's deepest, darkest mysteries.
Peek-A-Boo Bear 10″ Light Up Prop
If you are going for that scary childish vibe, then this 10" Peek-A-Boo Bear Light Up Prop is the thing for you!
Its red eyes and jagged-toothed mouth will spook and unsettle anyone who sees them when it moves its hands for the scare.
The pressable button on the foot invites you in like any fun kids' toy, then the scary face and sudden motion will be sure to deliver on that Halloween promise.
You will love seeing friends and family jump out of their shoes when they try this scary bear out!
3 Piece Light Up Clown Head Stakes with Sound & Movement
Have you ever been walking along, minding your own business, and suddenly get a strange feeling that you're being watched?
Most of the time, it's just your imagination, but sometimes you turn around and see that a trio of crazy-looking clowns have you in their glowing gazes.
Spook your friends and neighbors by decorating with these 3 Piece Light Up Clown Head Stakes with Sound & Movement!
The creepy clown head has glowing red eyes and mouths that move as they say a variety of pre-recorded phrases.
Hanging Animated 39″ Flying Witch On Broom
This lady of magic is a whopping 39 inches tall and she rides on a classic witch's broom.
Her look features an elaborate outfit with striped accessories, a pointy witch hat, long gray hair, and eyes that glow red for that extra Ack! factor!
Anyone can place a scary item on a table, but it takes real decorating creativity to think about what your guests will see when they look up!
Plus, this witch's glowing eyes will make quite a party entrance, as she swings about your foyer, welcoming your guests with her gaze.
While some witches are friendly, helpful, good witches, this hanging witch is…not. She's mischievous, powerful, and yes, a little bit evil—but being scared is what Halloween is all about!
Lighted 9.5″ Haunted Halloween Camera with Sound
Whether you're going for authentic or not, this Animated Halloween Camera can help in a flash!
Measuring 9.5" tall and styled after vintage flashbulb cameras, this spooky decoration is sure to capture guests' attention.
Gather friends and family in front of the lens and catch them off guard as the camera plays a clip from "Somebody's Watching You" and really flashes its light or speaks a haunting phrase.